We offer a range of high-quality artificial grass options that are perfect for the area around your pool.
If you are planning to have a pool put in, or you already have one, you will need to figure out what to do with the rest of your yard. Pool landscaping can go a long way to either elevate or hold back your pool design, so it's important to get it right. One question you will need to think about in regard to pool landscaping is whether to have natural grass around the pool or to use some other ground cover. Grass around swimming pools often fails to thrive due to a combination of heavy foot traffic and chlorine exposure, so many homeowners opt to use something else instead. If you want the look of grass around your pool, you can reach out to our team at ForeverLawn Charlotte to get high-quality artificial grass instead.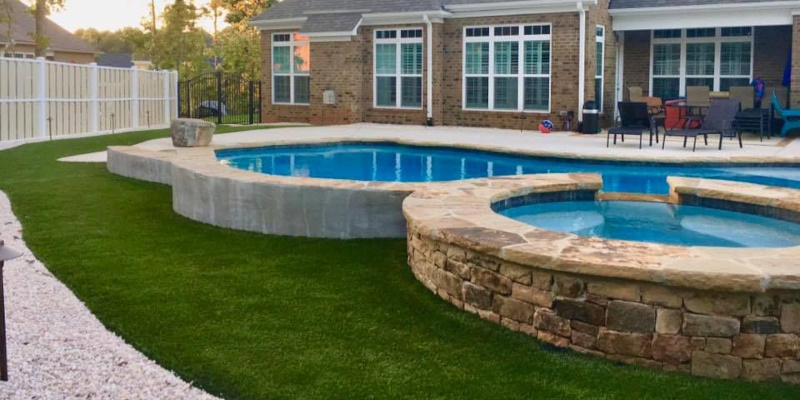 There are a few reasons why using artificial grass around pools is a great choice. First, our high-quality artificial turf is designed to look and feel incredibly realistic, so you will get to enjoy the appearance of natural grass with none of the hassles. Second, unlike real grass, our artificial grass will not be harmed by chlorine or other pool chemicals, and it will hold up to even the heaviest foot traffic. In other words, our artificial grass will continue to look great for years to come.
Our team is proud to serve the community here in Charlotte, North Carolina, and we want to help you make your pool area the best it can be. If you are interested in installing high-quality artificial grass around your pool, just give us a call to find out how to get started.
---
At ForeverLawn Charlotte, we install grass around pools in Charlotte, Huntersville, Matthews, Cornelius, Davidson, Stanly County, Gaston County, and Mecklenburg County, North Carolina.