We offer anti-microbial, allergen-free, and static-free playground turf.
For many kids, spending time on a playground is the highlight of the day. Being outdoors and running around is also good for their mental and physical health. But whether you're considering the addition of a playground in your own backyard or planning to add one to a shared community space, it's important to think about the turf beneath it. Playground turf should be soft enough to absorb the weight of a child if they trip or fall off the equipment yet durable enough to withstand exposure to heavy foot traffic. It's also worth considering something that won't require a lot of ongoing maintenance. Natural grass doesn't do well in this type of space, as the foot traffic tends to kill it off quickly.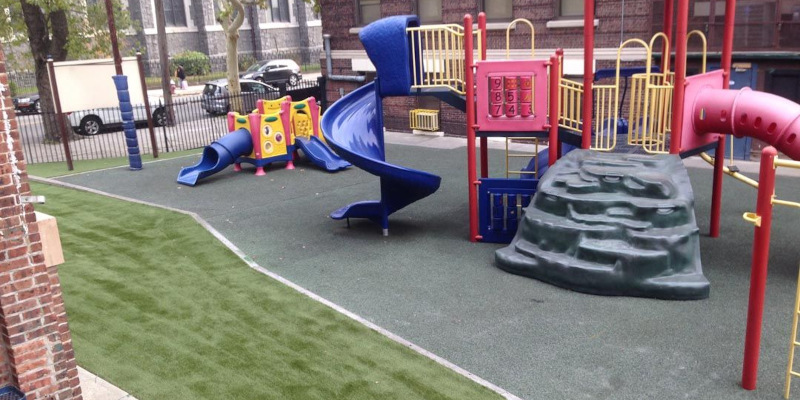 One playground turf option that's worth considering is artificial grass. At ForeverLawn Charlotte, we offer artificial playground turf in and around Charlotte, North Carolina. The most popular choice among our clients is called Playground Grass, a premium product that's designed for this exact purpose. It's certified by the International Play Equipment Manufacturers Association and meets all ADA requirements for inclusive outdoor play spaces. The playground turf is also anti-microbial, allergen-free, and static-free, making it a safe choice. It's easy to maintain and keep clean, and its cushioned surface can protect kids from falls of up to 13 feet.
Before you install any type of play equipment on your property, we invite you to contact us to learn more about the playground turf we can install beneath it. You'll love the peace of mind that comes with a soft surface beneath your loved ones as they play high above the ground.
---
At ForeverLawn Charlotte, we install playground turf in Charlotte, Huntersville, Matthews, Cornelius, Davidson, Stanly County, Gaston County, and Mecklenburg County, North Carolina.