Are you ready to take your golf game to the next level? Look no further than GolfGreens, the ultimate putting solution that promises a hole-in-one experience. Whether you're a seasoned golfer or just starting out, GolfGreens is your ticket to an unforgettable golfing adventure. Join our team at ForeverLawn Charlotte as we dive into GolfGreens.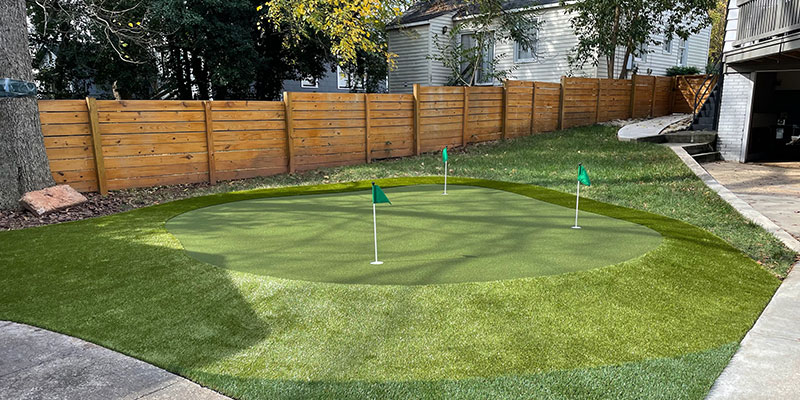 What are GolfGreens? GolfGreens are state-of-the-art artificial putting surfaces that mimic the look, feel, and performance of real grass. Designed with precision engineering and cutting-edge technology, GolfGreens provide a consistent and smooth playing surface that enhances your golfing skills. The surface is made from high-quality synthetic fibers specially engineered to replicate the texture and speed of natural greens.
Perfect for Practice. With GolfGreens, you can practice your putting skills anytime, rain or shine. Say goodbye to weather restrictions or expensive golf course fees. Set up your GolfGreens in your backyard, basement, or even on your rooftop! It's like having your own private golf course.
Low Maintenance, High Fun. Unlike natural grass, GolfGreens require minimal maintenance. No mowing, watering, or fertilizing. The synthetic fibers are designed to withstand heavy foot traffic and retain their vibrant green color for years. Simply brush off any debris and enjoy endless hours of golfing fun.
Versatility at its Best. GolfGreens are available in various sizes and designs to suit your space and preferences. Whether you want a compact putting green or a sprawling backyard oasis, there's a GolfGreens solution for everyone. You can even customize your GolfGreens with bunkers, undulations, and other features to create a challenging and exciting golfing experience.
If you're passionate about golf and crave a convenient and enjoyable golfing experience, look no further than GolfGreens. Experience the thrill of perfect putts, improve your skills, and create lasting memories with family and friends. GolfGreens is the gateway to your very own golfing paradise. Swing into action and get ready to tee off with GolfGreens.